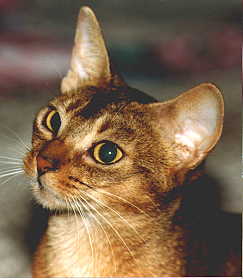 Nile Abyssinians
Our Cattery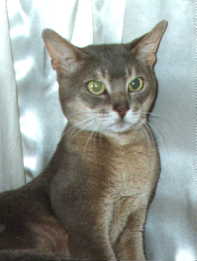 Nile Abyssinians is no longer breeding
We bred Abys in the four eumelanistic colours: Tawny (Ruddy), Cinnamon (Red) Blue and Fawn, and we are proud of both their temperament and show/breeding performance.
We got our first Aby in 1973 and started breeding in 1976. In 1980, we introduced American Abys (Lakme Negusa Nagasht and Tausert's Nulli Secunda) to Australia, no mean feat since at that time they had to undergo 6 months' quarantine and 6 months' residence in the United Kingdom followed by 3 months' quarantine in Australia.
In 1981 we introduced Blue Abys by importing Crownfields Abbai from the UK. In 1984 we imported the first American Blue male in Australia, the incomparable and irreplaceable Gold Dbl Gr Ch Lohrengel Barrow Bambi III. We subsequently imported additional American Abys, Tawny and Blue. The most recent was CCCA Gr Ch, Gold Dbl Gr Ch & (US) Gr Ch Zzaby's Pipe Dream, who came here in February 2001 from Karyn Dillard in Little Rock, AR, and has made a major impression on the Aby fancy in Australia and New Zealand.
We have always given other breeders full access to our imported and local lines.
We have sent our Abys all around Australia, and also exported quite a few of them. Nile Abys and their descendants can thus be found in New Zealand, United States, Japan, The Netherlands, Sweden, Norway, Switzerland, the UK, France, South Africa and Denmark.
Our Abys are have done well on the show bench - see Nile News for details and photos
This page was last updated on 29-June-20
Home Page Photos Litters Useful Links Nile News